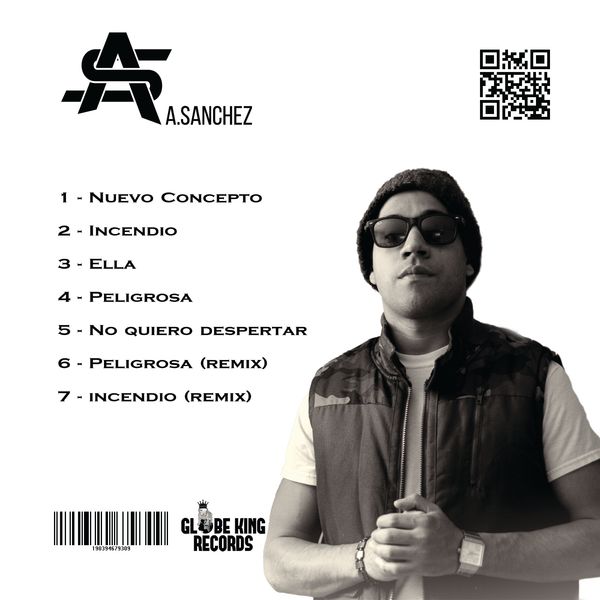 The tracklist for Nuevo Concepto has been released. Let's start a track by track analysis by A.Sanchez
01 NUEVO CONCEPTO :(hiphop)
'' I made this beat back in 2006 using the supersaw P8 vst instrument which is a close emulation of the Roland JP 8000 synth. The beat has this Giorgio Moroder type of vibe mixed with some  Hip hop. I lost the original session,but I was able to find a version of the track that captured what I wanted. It simple.... no big arrangements. It's all in the lyrics and the hook. 11 years ago, I was basically lost and had this feeling that I was missing out on something . I kept questioning everything... drinking until auto-destruction mode. So Nuevo Concepto is like a monologue of what I was saying to myself in the mirror back then to find motivation.''
02 INCENDIO : (Reggaeton)
'' A classic reggaeton Structure built with one of my main weapons of production the Yamaha Motif ES Workstation. I went crazy on the hook. I wanted something upbeat and energetic.. It's the party song of the album.
03 ELLA : (Dancehall)
''I wrote most of the song on my second trip to Varadero,Cuba around 2011. you know just watching the scene and taking notes ... It describes the beauty of women..Especially when they get ready to go out and give it all on the dancefloor.
Me encierra en esa prisión/ El Alcatraz de seducción /Y escapar me no es opción /Soy prisionero de su amor/''
04 Peligrosa : (Reggaeton)
''FACT : This was the first reggaeton song that I wrote and produced back in the early 2000. FACT : I made so much versions of this track that I have lost count. FACT: My close entourage loves this song and encouraged me to release it. FACT : You can download it for free by joining the mailing list. It's a fun track highlighting wordplay and humour. Its got an old school sound to it. 
05  No quiero Despertar : (Reggaeton)
On a more romantic side, No quiero Despertar has this sweet melody. The guitar in the verses add some caribbean flavour to the track. I was going  trough a rough patch in my relationship and I had to make decisions.
06- Peligrosa (Remix) (EDM) and 07 Incendio (Remix) Trap
This is the fun part. It might seem simple, but taken a song from a  genre and turning it to something else is not easy. The two remixes in the EP were an experimental project. I wanted the remix of Peligrosa to be more aggressive and hyped. So flipped the whole structure of the song to make it an EDM track. Incendio Remix is one of my favorite tracks on the EP, because of the Spanglish. The Hook remains in spanish with higher BPM and the lyrics are in english. The So from start to finish of The EP you can sense an evolution in styles from the past,present and future. Incendio Remix closes the EP with what is to come... a full album maybe ?